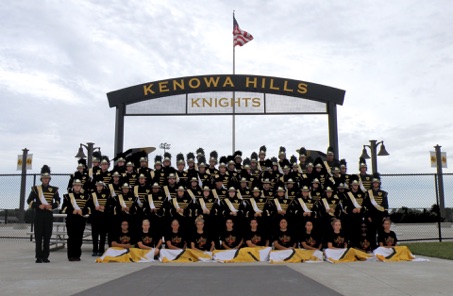 Marching Band
The Kenowa Hills Marching Knights concentrates on the performance of music which is visually enhanced by the use of drill (marching) and auxiliary units. The group consists of the block band, which is made up of the wind and percussion players, and the color guard, which uses dance and equipment (flags, rifles, etc.) to visually interpret the music. The band performs many different styles of music. Performances include concerts, contests and festivals, parades, and half-time shows. It should be noted this class is a performance group. It should also be understood that extra rehearsals and performances are an important part of the commitment. Absence from these can affect the student's grade.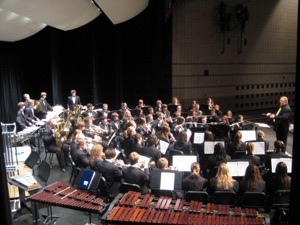 Concert Band
The Kenowa Hills Concert band is open to all band students. The group will perform concert band literature, which will range in various difficulties. Performances will include school concerts and possible festival participation, and commencement. It should be noted this class is a performance group. It should also be understood that extra rehearsals and performances are an important part of the commitment. Absence from these can affect the student's grade.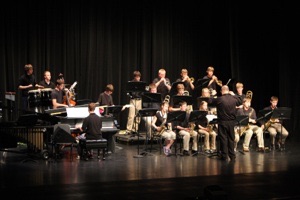 Jazz Band
The Kenowa Hills Jazz Ensemble provides an excellent opportunity for musicians interested in jazz performance. This band allows students to hone their technical skills and learn to explore and express their musical creativity. The students work on fundamentals such as tone, technique, intonation, expression and rhythm. The groups meet two-three times a week during first hour leading up to District 10 Jazz Festival, with extra rehearsals as required, and travel to festivals and competitions throughout western Michigan. They are open to students in grades 9-12. This group meets as an extra-curricular group.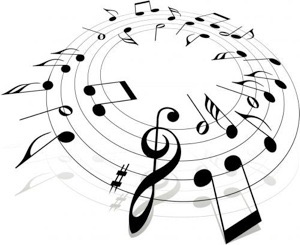 Pep Band
The Kenowa Hills Pep Band is a group for students in grades 9-12 that are currently enrolled in band. Pep Band performs at a variety of events throughout the school year. As a member of the Kenowa Hills High School Pep Band, you will be a volunteer to the community and will be committing your valuable time and effort to promote school spirit and pride.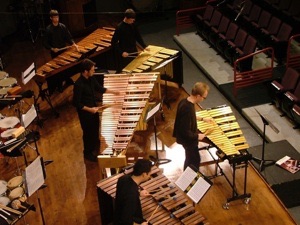 Percussion Ensemble
The Kenowa Hills High School Percussion ensemble is a performance-oriented ensemble designed to provide students with varying levels of playing experience with quality literature of varying styles as well as a solid foundation in the world of percussion. The Percussion Ensemble attempts to provide several performance opportunities throughout the school year. Students who comprise the Percussion Ensemble also serve as the percussionists for the Kenowa Hills High Instrumental Department, and participate in various ensembles. The KHHS Percussion Ensemble strives yearly to continue the tradition of fine percussionists at Kenowa Hills High School.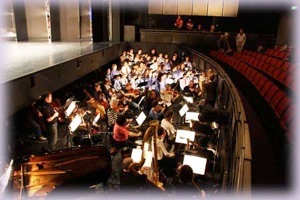 Musical Pit Orchestra
Musical happens late in the winter each school year. During each performance, musicians are needed to perform the music while the cast sings and acts out the musical. Students are often the performers of this "Pit" orchestra. The term "Pit" comes from the area which early orchestras performed. In front of many stages is a basement area called a pit, where musicians played while the performers were on stage. Thus musicians refer to this group of performers as simply "The Pit". High school students who would like to participate in this can sign up during the winter, and, based on the need of each musical, receive music by early February. Rehearsals run after school from the first week music is handed out, until the musical performance dates. This is not just a group of students playing more each week, it becomes another tightly knit group, ready to stand up for one another in time of need (Often it comes in the form of food and candy on tech Friday and Saturday). For further information, please ask your school directors.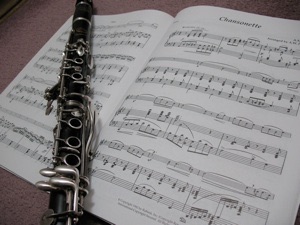 Solo and Ensemble
Solo and ensemble is an event which middle school and high school members can participate. This event is after school, and often on a Saturday. Students who wish to compete in this event must sign up with their teacher in advance. Students at Kenowa Hills have the fees covered by the individual class budgets, which gives many students the opportunity to attend this event when others may not have that financial ability. Students who attend choose a piece to perform on their own, as a solo, or with a group of two or more members, an ensemble. Students practice both during class and on their own, and perform for the class prior to the event. This is a great opportunity for students to play music in small groups and on their own, and also builds leadership skills in many young players. Please take advantage of the checklist below describing the event and what is expected of students, as well as the pianist list if students are playing a solo and need an accompaniment.